By Kempton Coady
Anyone looking to start up a business must be prepared to dust off their calculator and crunch some numbers. Business owners need to be familiar with their gross sales, net income, write-offs, and several other figures to make sure they're running a successful operation.
By maintaining detailed records of your finances, you can see where your business is most successful and where you might need to cut costs or find savings. This white paper gives you an overview of the financial statements that can assist you.
Financial Statements
The Balance Sheet shows the entity's assets, liabilities, and stockholders' equity as of the report date.
The Income Statement shows the results of the entity's operations and financial activities for the reporting period. It includes revenues, expenses, gains, and losses. This can be a great tool for operations, accounting, and marketing measurement when used as a finite measure of business segments, products, and/or services.
The Cash Flow Statement shows changes in the entity's cash flows during the reporting period. Cash flow is normally calculated simply by adding back depreciation to net profit. This is the most important information for a small business owner, because it measures the cash available to pay your company's bills. But there is much more to cash flow (see section below).
Balance Sheet
A balance sheet is a presentation of a company's financial position, as broken down into assets, liabilities, and equity.
Company management and investors use the balance sheet to assess the company's financial well-being and take actions to address any issues. For example, the balance sheet might show that the company has too much debt, that goodwill calculations are too large, or that some other problem is weighing on profits.
When a balance sheet is reviewed externally, it offers insight into what resources are available to a business and how they were financed. Based on this information, potential investors can decide whether it would be wise to invest in a company.
The balance sheet is calculated as follows: Assets = Liabilities + Shareholders' Equity
The following components are involved in a balance sheet:
Assets
Current assets typically include anything a company expects it will convert into cash within a year, such as:
Cash and cash equivalents

Prepaid expenses

Inventory

Marketable securities

Accounts receivable
Noncurrent assets typically include long-term investments that are not expected to be converted into cash in the short term, such as:
Land

Patents

Trademarks

Brands

Goodwill

Intellectual property

Equipment used to produce goods or perform services.
Assets must be categorized to create the balance sheet.
Liabilities
While an asset is something a company owns, a liability is something it owes. Liabilities are financial and legal obligations to pay an amount of money to a debtor.
Current liabilities typically refer to any liability due to the debtor within one year, which may include:
Payroll expenses

Rent payments

Utility payments

Debt financing

Accounts payable

Other accrued expenses
Noncurrent liabilities typically refer to any long-term obligations or debts which will not be due within one year, which might include:
Leases

Loans

Bonds payable

Provisions for pensions

Deferred tax liabilities

Obligations to provide goods or services in the future (for example, a newspaper paid for a subscription over the next 12 months)
Owners' Equity
Owners' equity refers to anything that belongs to the owners of a business after any liabilities are accounted for. If you were to add up all the resources a business owns (the assets) and subtract all the claims from third parties (the liabilities), the residual leftover is the owners' equity.
Owners' equity includes two key elements. The first is money, which is contributed to the business in the form of an investment in exchange for some degree of ownership (typically represented by shares of stock). The second is earnings that the company generates over time and records in financial documents that speak to a company's health.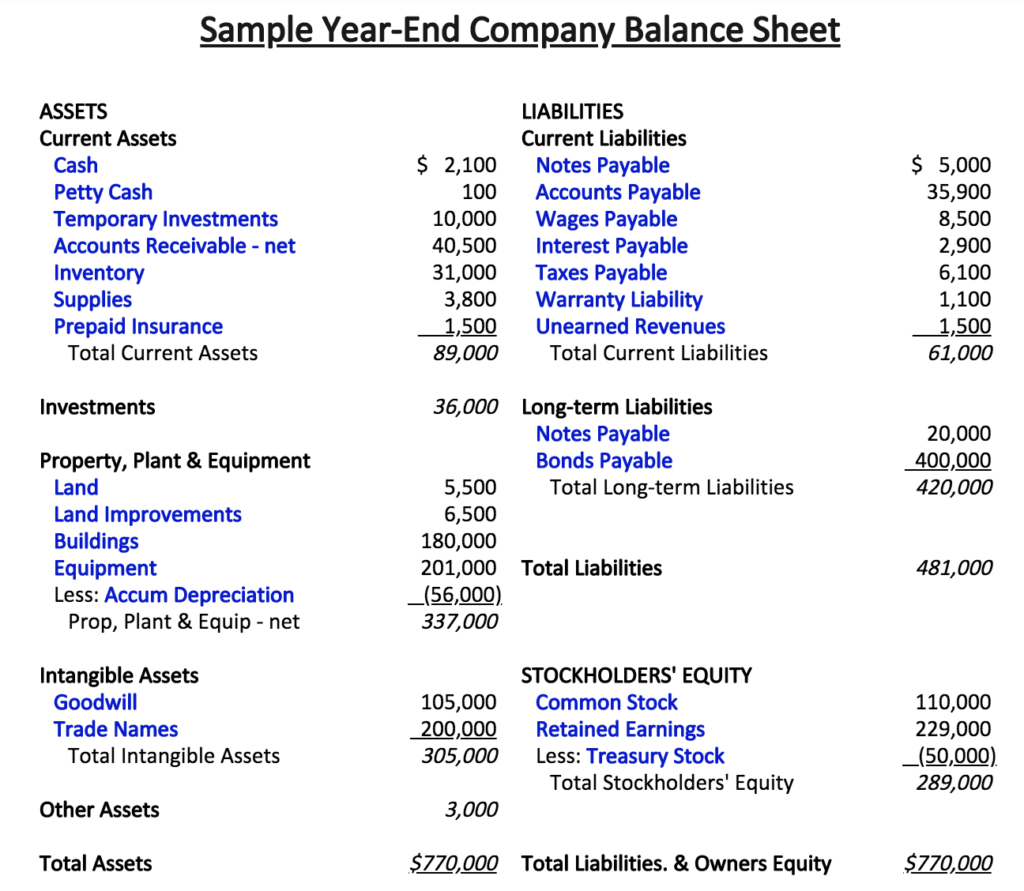 Income Statement or Profit and Loss Statement (P&L)
An income or profit and loss (P&L) statement is really the easiest and most important financial statement for a new or small business to understand. It summarizes all income and expenses over a given period, including the cumulative impact of revenue, expenses, and loss transactions. This financial statement allows you to look at your overall business or at specific segments or product/service lines to understand their contribution as part of the business mix.
This one financial statement, combined with cash flow calculations, allows you to better run your business. The P&L can be used to analyze financial business trends over time or even to do forecasting. Income statements are shared as quarterly and annual reports, showing financial trends and comparisons over time.
An income statement tallies income, costs, and expenses. It tells the financial story of a business's activity, showing financial performance over a period of time. Without an accurate income statement, your company is flying blind.
Business owners, accountants, and investors regularly review income statements to understand how well a business. When the actual performance is compared to expectations or industry standards, this information is used to adjust decision-making and actions.
Developing an Income Statement
An income statement offers a detailed breakdown of income, costs, expenses, and profitability over time, including:
Revenue: The amount of money a business takes in during a reporting period
Expenses: The amount of money a business spends during a reporting period
Costs of goods sold (COGS): The cost of the component parts necessary to make what the business sells
Gross profit: Total revenue minus COGS
Operating income: Gross profit minus operating expenses
Income before taxes: Operating income minus non-operating or overhead expenses
Net income: Income before taxes minus taxes
Earnings per share (EPS): Division of net income by the total number of outstanding shares
EBITDA: Earnings before interest, depreciation, taxes, and amortization
Net profit: A ratio showing how much net income is generated as a percentage of revenue
By breaking down the P&L analysis to look at business segments, product, and service lines in more detail, you can have a better understanding of your business decisions.
ViVA Skin Care Comparative P&L January 2006 vs January 2005
Cash Flow
Cash flow calculations can involve three different components:
Cash recognized because of adding back non-cash items like depreciation to your net profit

Cash generated because of investments

Sales of assets to generate cash.
Cash Flow Statement Direct Method
This method, often referred to as cash basis, is based on the transactional information that impacted cash during the period. To determine the cash basis, start with cash collections from operating activities, and subtract all the cash disbursements from these activities.
Cash Flow Statement Indirect Method
The second way to prepare the operating section of the statement of cash flows is often called the indirect or accrual method. This method depends on the accrual accounting method in which the accountant records revenues and expenses at times other than when cash was paid or received—meaning that these accrual entries and adjustments cause the cash flow from operating activities to differ from net income.
One example of this kind of cash flow accounting is a one-year newspaper subscription. The newspaper recognizes cash from annual subscriptions as coming in each month over 12 months. In this case the timing of the newspaper's expenses is recognized by month.
Interpreting a Cash Flow Statement
Positive Cash Flow
Positive cash flow indicates that a company has more money flowing into the business than out of it over a specified period. Naturally, this is the ideal situation, as it allows the company to settle debts, reinvest the excess funds, benefit shareholders, find new ways to grow the business.
Negative Cash Flow
Negative cash flow means your cash outflow is higher than your cash inflow during a period. A negative cash flow may be caused by a mismatch between expenditures and income, such as elevated expenses when a business is expanding.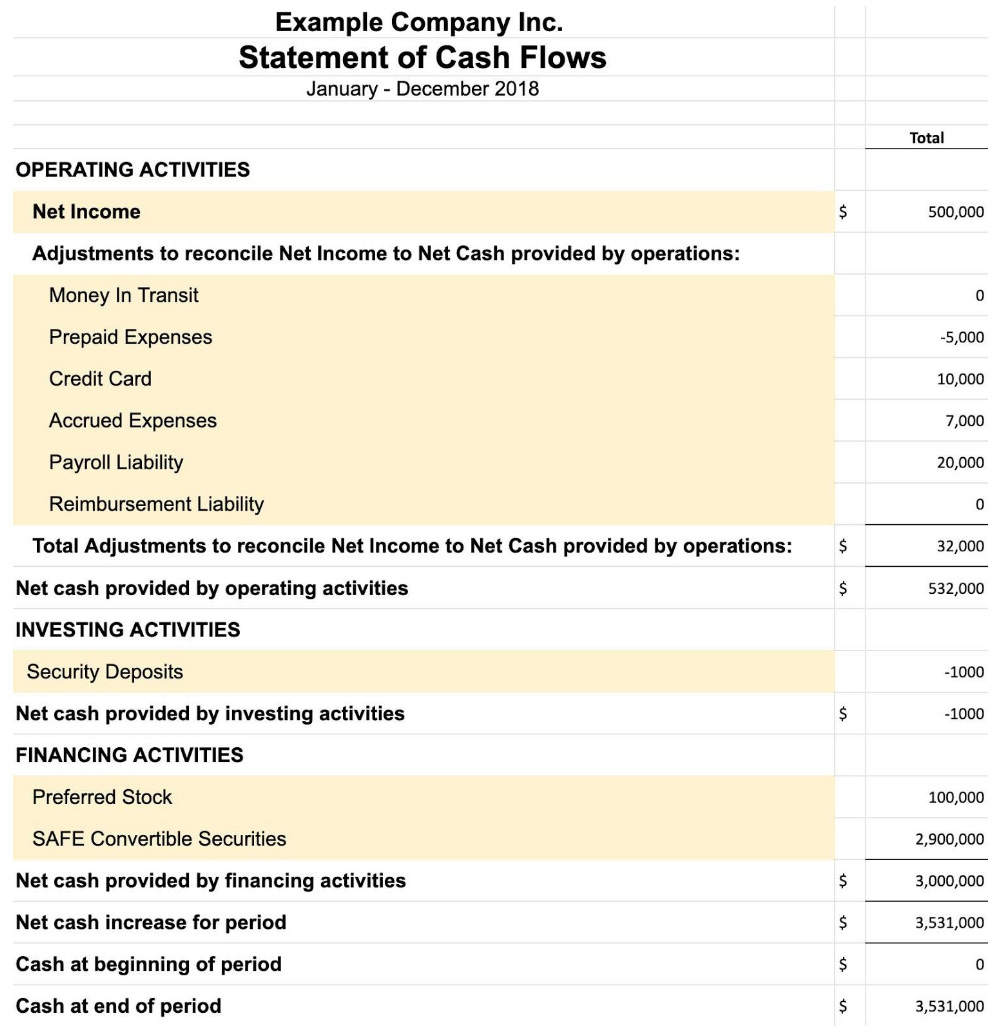 Financial Ratios
Financial ratios are mathematical comparisons of financial statement accounts or categories. These comparisons help business owners, investors, creditors, and internal company management understand how well a business is performing and whether any segments need to be improved or shut down.
Some of the most important ratios are Gross Margin (Gross Profit/Sales x 100), Pretax and After-Tax Margins, Return on Assets (Net Profit/Total Assets x 100), and Return on Investment (Net Profit/Total Investment x 100).
Comparisons Generally Made to Industry Standards
Important financial statement ratios can be marketed as indicators of a company's performance. Here are some of the more important figures and what information they convey to managers or investors:
Gross Margin: Does the product or service make enough money?
Operating Margin: Are operating expenses too high?
Pretax Margin: Does the company make enough money after overhead expenses?
Cash Flow: Is cash flow sufficient to invest in or expand the business?
Return on Assets: Are there sufficient returns on assets invested? (Incidentally, this figure is a favorite of business tycoon Warren Buffett)
For more information on financial ratios, see the separate expert report title Financial Ratios and Importance.
Conclusions
Purposes of the Income Statement, Balance Sheet, Financial Ratios
To determine the ability of a business to generate cash, and the sources and uses of that cash

To determine whether a business has the capability to pay back its debts

To track financial results on a trend line to spot any looming profitability issues

To use financial ratios derived from the financial statements that can indicate the condition of the business

To investigate the details of certain business transactions, as outlined in the disclosures that accompany the statements
How do businesses use this income statement information?
To calculate revenues

To measure one-time results of the company or individual products and services

To measure results over time

To compare the company or its products and services to industry standards

To determine the viability of the business or its products and services
If you'd like more help with finding the right solution for housing your startup, InnovatorsLINK offers a detailed Bootcamp course where you'll learn the details about all your options. Register here. 
Review the Executive Summaries associated with each course prior to attending the courses.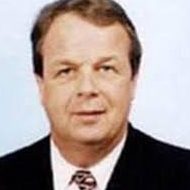 InnovatorsLINK, Inc. General Manager and Chief Financial Officer
A SENIOR LEVEL EXECUTIVE with over 30 years successful, results-oriented domestic and international experience in the MEDICAL DEVICE BUSINESS.  A Business Leader who created significant increases in profits and cash flow and/or raised money to expand enterprises.  A Leader, who attracts and motivates the best talent to achieve the desired results. Board member for AMEX, NASDAQ, and London Stock Exchange companies.  Significant international experience in Europe, Latin America, and Japan.  Experience the last seven years has included Professorships at Goldman Sachs 10KSB program and University of Connecticut Graduate School of Business.  Earned BS Bates College, MBA and MPS Cornell University.
This Expert Summary is © InnovatorsLINK. For republishing, please contact dlangeveld@innovatorslink.com.